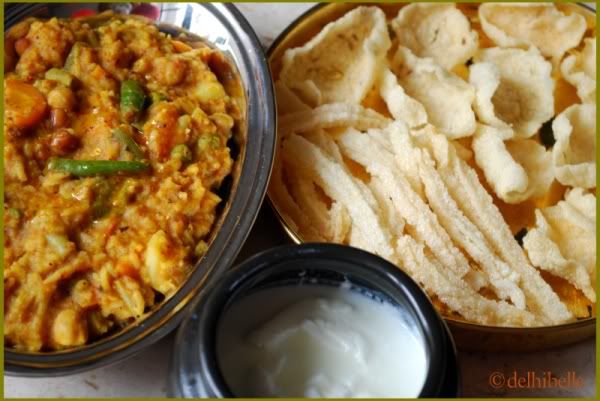 Hope Holi was fun, colorful and full of good food for everyone. Our Holi lunch this time was Bisi Bele Bhath (BBB).
Although I am a big, Big, BIG fan of BBB,I never thought it was possible to make a decent one at home from scratch. I have made it a couple of times using the MTR mix, but it could hardly compare with some of the better reneditions of this fabulous dish I have had.
Finally, I came across a recipe that works well, and brings out the fresh, vibrant flavours that I associate with this dish.

Yesterday after enjoying it for the second time, I know this one is a winner.This is a recipe by Lali who has some neat cookery videos on youtube, and this is her mom's favourite dish. I also referred to this video on youtube, which uses the speedier way of cooking rice, veggies & dal together.
Based on the two videos, I came up with the following method, although I stayed true to Lali's BBB masala paste . You can add onions which I didn't use this time, as I avoid it on festivals. It still tasted wonderful, though, so it's really up to you.
Serves 4
2 cups of mixed veggie ( carrots, French beans, potato, peas)
a handful of soaked, cooked chickpeas (optional, don't fret over it if it's not handy)
fresh green chillies, optional
BBB masala,as below
1/2 glass tamarind juice( 1 lime sized lump of tamarind), soaked and strained
Salt to taste
1 tbsp oil
A handful of peanuts
A handful of curry leaves ( 15 or so)
a pinch of red chili powder, if desired

BBB Masala
5 cloves , 1 inch cinnamon stick , 5 dried red chillies, 1 tsp chana dal, 2 tsp coriander seeds
Method
Soak the dal in warm water and rice in room temperature water for half an hour, while you prep the veggies (I used carrots, french beans, potato and peas). Also chop the tomatoes, capsicum and chillies as below.

Cook the dal, rice and veggies together in a pressure cooker for around 20 minutes (3 to 4whistles).
Get the masala ingredients together. The peanuts are not part of the masala, they go in later.


Step 4:
Roast cloves, cinnamon, chana dal and coriander one at a time in a few drops of oil and keep aside.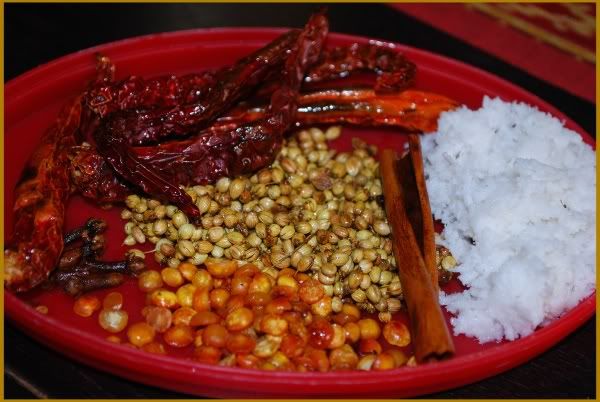 Step5:
Grind together with the grated coconut into a coarse paste.

Heat oil in a wok,fry the peanuts and then curry leaves.Once they start to crackle,then tip in the tomatoes, capsicum & green chillies and cook for a bit.
Now add the masala dissolved in tamarind juice and more boiling water as needed to get a loose mix. Add salt,turmeric and chilli powder,if using, mix well and cook on low heat till it reaches a slightly runnier consistency than you want as it will thicken considerably on cooling.