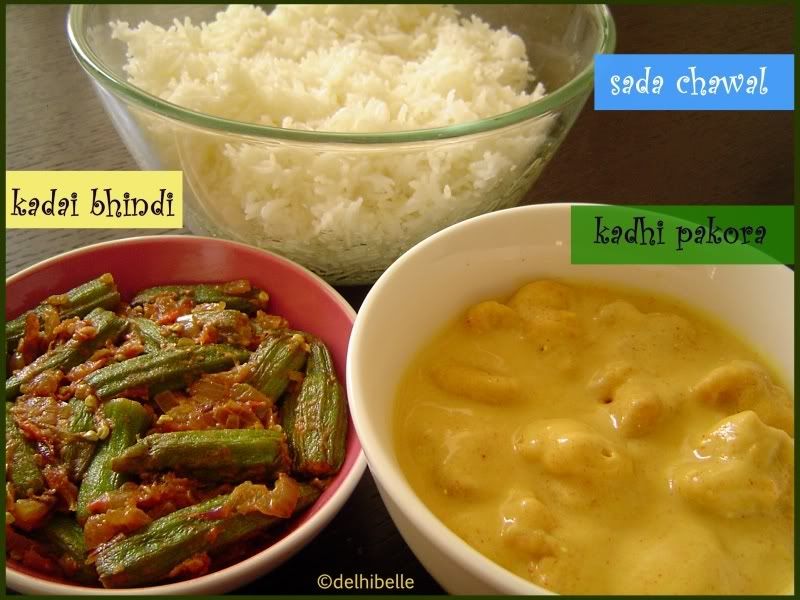 In my parents' home in Delhi, we were access to some great cooks, and Prema aunty was one of the most formidable cooks in that little neighbourhood of ours. Living alone, she had learned to leverage her hobbies of rearing dogs and cooking to earn her livelihood. While I don't really know much about the first, but boy was she a good cook or what!
I especially remember her typical punju dishes, cholay, rajma chawal, bharta, aloo gobhi et al. Now while I was never a big fan of bhindi, especially the soggy, sticky version I usually came across, I loved Prema aunty's bhindi, until I discovered that she fried and heavy handedly coated it with a rich pyaaz tamatar( onion-toato) gravy. However, the last time I picked up Okra, I decided to defatten Prema Aunty's bhindi recipe and was pretty satisfied with the result. In keeping with the low fat theme , I made oil free kadhi and steamed rice, to round off the meal. Simple additions such as rotis, papad, salad and pickle would all complement the meal, for those who like slightly more elaborate spreads.
250 gms okra, washed & wiped dry
1 medium onion, finely chopped
1 medium tomato, finely chopped
Halve the bhindis lengthwise, if they are big, else just top and tail them. As always, the smaller variety of okra tends to be more flavourful and tender than the larger .
Drizzle around 1 tbsp oil on the okra, toss well to mix and roast in a preheated oven till done ( I used my tiny toaster oven which has imprecise temperature settings, so just approxiamated the time, which can be anywhere from 20 to 40 minutes). While the okra is roasting, heat up the remaining oil, fry onions till golden, add tomatoes, followed by all the spice powders and cook till it leaves a little oil. Once the okra is done, toss it with the onion tomato mixture, add salt to taste, and cook for 3 to 4 minutes. That's it!
1 cup curd (I used whole milk)
3 tsp besan ( chickpea flour)
1/2 tsp chili powder (adjust to taste)
a pinch of turmeric powder
Beat together besan and water and salt, really well, till you get a thick, flowing, lump free batter. Heat an appe pan ( I used a japanese takoyaki pan), and pour a few drops of oil in each depression. Drop sponfull of batter into each, and cook well on both sides. You can safely leave these pakoris while you are doing other work, they just don't taste as good as the fried ones, but after dropping them in the kadhi, you can hardly tell them apart!
For the kadhi, mix together everything except the salt in a large saucepan, pot. Bring to a slow boil, stirring continously. Once the mixture starts boiling, you need to stir intermittently every couple of minutes. let the kadhi cook on low heat for about 20 to 25 minutes after it starts boiling. You can increase/decrease the time depending on whether you want your kadhi thicker or runnier. During the last 5 minutes of cooking, bung in the pakoris. Remember that the kadhi will thicken somewhat on cooling.
Serve with freshly steamed, hot rice and kadai bhindi for a light, blissful lunch.