The whole of this month, I have been planning a party for some really special, important but extremely hard to please guests.
Anyone cares to guess who could they be ????

It was my little one's birthday this Sunday and the 'guests' were 18 of his friends!
All those with young kids would understand my dilemma..I mean it's hard enough trying to figure out what to make that would please one child; just imagine coming up with attractive looking, non-messy food that would go down happily with one and a half dozen kids


Days of research and pondering later, this is what I came up with, and I am happy to inform you most of the food was enjoyed by the little conossieurs, with just enough leftovers to constitute my next day's brunch and tell me that kiddie food can be pretty, yummy and easy to put together.
Starting with sonny boy's favourite:

These were inspired by Saffron Hut, whose talented author no longer blogs, but has left behind a brilliant blog for all of us to admire and get inspired by.
I did make a few changes to her version, asI did not want to use peanut butter for fear of any of the kids being allergic to nuts, so here I am giving the list of what I used:
Oreo
Plain pretzels
Plain M&M
Cheese spread to stick the eyes
I also used some cheese spread on one inner side of the cookie to help pretzels stick better.
Saffron's recipe uses peanut butter. Try Jam. Or Nutella. Basically any sticky, yummy tasting stuff would work
I could not bear the ask the kids to wait for me to take pictures of the cookies, so I made them again today, to show what they look like.
Uh-oh, the green one's trying to run away!!

The next one was my personal favourite. Fresh, summer fruits threaded onto a satay stick to make a fruit kebab. Dunno why, but they tasted a lot nicer, eating them one after another heightens their taste, or maybe its just the visual appeal. Whatever be the reason, these did disappear even faster than the cookies!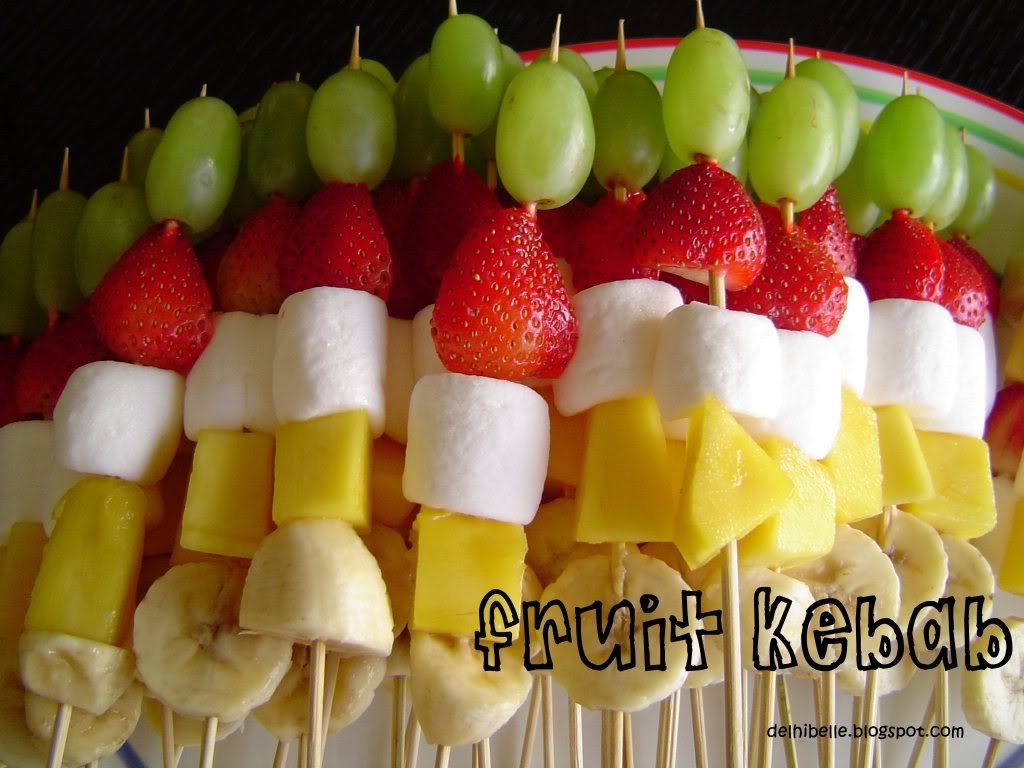 Now this one certainly does not need a recipe, but here are some thoughts :
Do pick seasonal fruit, it always tastes better.
Try to go for a range of colours, textures and flavours. Some ideas:
Green, crunchy & sweet: Grapes, kiwis, melon( green apple is risky, kids are sometimes not too fond of it)
Red & juicy: Strawberries, cherries, raspberries, apple, watermelon
White: Marshmallow
Yellow & fragrant: Mango, pineapple, orange, papaya, peach
Creamy & sweet: Banana
That's it.....go make up your own rainbow
The final one is good old cucmber sandwich, which is dressed up ( down?) to make it look pretty and unusual. This was completely inspired by VegeyumYum, a fundu food artist....I mean, just look at this !!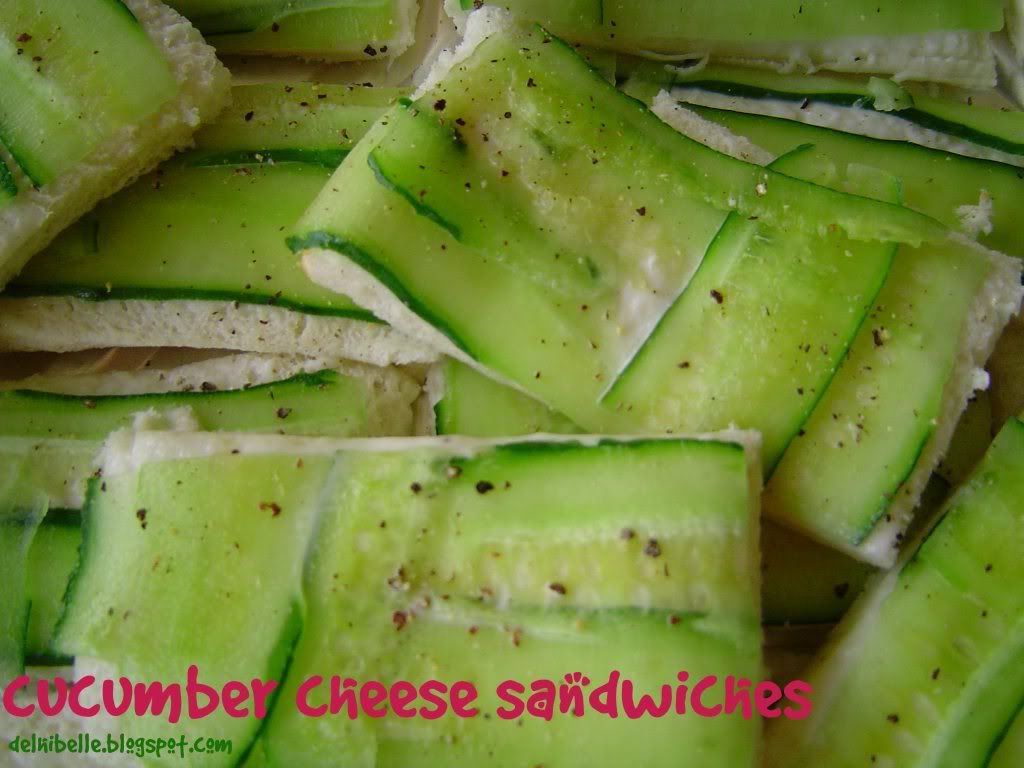 We need:
Sandwich bread
Cheese Spread or Cream cheese
Cukes, thinly sliced using a peeler
Freshly crushed Black pepper
I used Amul cheese spread and the slim Japanese cucumbers.
Peel cucmber using a sharp peeler. Lay the slices of cucumber, slighlt overlapping. Do not use salt, as it will make the sandwiches soggy. The cheese usually has enough salt, anyway.Cut into desired shape.
See how she makes them even prettier by using cookie cutters to get interesting shapes.
And finally, my son would be extremely disappointed if I do not put a picture of his cake on the blog, given that he proudly chose it himself, with a picture of his current idol!

No, I certainly did not make it myself, infact I secretly tried to scrape off the Batman part before giving it to the kids, because of the food colour, which seemed to bother only me. For those who are interested, it was a fresh cream and strawberry layered cake. Quite alright.
For the accompanying adults, there was a Filipino style pasta salad, fries & chicken nuggets.
Me and P were too busy trying to play with kids to have much ourselves, and these were our brunch the next day, so I hope dear Sia would allow me to also send it to her sweet summer party.
Have a lovely day !