The daily drizzle in Singapore has made me too lazy to cook, and step out of the house. The weather has given us perfect excuse to slob it out, watch bollywood movies and catch up on reading.
But then, movies and books are no fun without masala tea, and tea is not half as good without some spicy munchies!
So here is some of my current favourite nosh which is easy to make, fun to eat, and best of all: guilt free!
Chili Lime Chana
Outside most schools,colleges and cinema halls in Delhi, you can find chana mungphalli bhaiyas, selling little cones of fried, spicy chickpeas and peanuts . As delicious as they are, I no longer have the nerve to mindlessly run through a couple of these in a go. This is a yummy alternative to keep your hands busy while you concentrate on unravelling that movie plot!
For 1 cup of Chili Lime Chana, we need:
1 cup roasted chickpeas
1 Tbsp lime juice ( to taste)
0.5 tsp each chili powder & cumin powder
a pinch of sugar & salt to taste
1 tsp oil

Mix lime juice, salt, sugar, spices and oil in a bowl. Coat the chickpeas liberally with this dressing and transfer to a foil lined baking dish.
Go ahead and try one to check seasoning , after roasting it will be somewhat less masaledar than now.

Bake at 160C to 180C for about 7 to 10 minutes, checking after every couple of minutes to ensure it does not burn. The spices and lime should dry down to form a crisp coating on the chickpeas and t
he sugar caramelizes to lend it a nice crunch, try not to skip it:)
P.S : Anyone interested to see what happens if you forget the chickpeas roasting in the oven and let them burn, pls mail me for pics of my first attempt!
Salt & Vinegar Chana
If you like salt & vinegar crisps, you will like these salty, pungent chickpeas
1 cup roasted chickpeas
1.5 Tbsp vinegar( to taste)
salt to taste
a pinch of sugar
1 tsp oil
Mix vinegar, salt, sugar and oil in a bowl. Coat the chickpeas liberally with this dressing and bake at 180C for about 7 to 10 minutes, checking after every couple of minutes to ensure it does not burn.
The method for making both types of chana is exactly the same, only the flavourings differ. The base is dry roasted chickpeas ( bhuna chana), this was what I used.
Update:
If you cannot find Roasted Gram, then try using raw chickpeas, soaked overnight and cooked till tender but retaining a bite, then roast similarly. In this case, they might require roasting longer.
These
links
also describe how canned chickpeas might work in a similar recipe.
Although I have not tried yet, I feel Peanuts roasted the same way would be delicious as well
!

Cereal Chiwda
Cereal Chiwda is another really delicious tea-time snack , and of late together with a cup of milk is often my breakfast as well. ( No, I do not mix them and eat !!)
Of course, any one or a combination of your favourite cereals would work well. I used the following:
1.5 cups Cheerios
0.5 cup of Kellogg Rice Krispies
0.5 cup of Cornflakes
0.5 cup of corn pops
a handful of roasted peanuts
2 tbsp of thick sev (optional)
1 tsp sesame seeds
0.5 tsp each of mustard seeds and cumin
0.5 tsp of sugar, turmeric powder and chili powder
1 tbsp of oil
salt to taste
Dry roast all the cereal in a large wok to remove any sogginess and keep aside(this is necessary given the humid weather here, it may not be required if your cereal is crunchy).
Heat half the oil in a large wok, add sesame seeds, mustard, cumin . Add all the cereal together and cook on a low flame for around two to four minutes. Add the spices and the remaining oil and mix well. Add salt and sugar, mix then add peanuts and sev. Cool and store.
Murukku
The final one..Murukku, may not be the healthiest snack around, but is oh soooo.. yummy that each is easily worth those extra 20 minutes on the treadmill!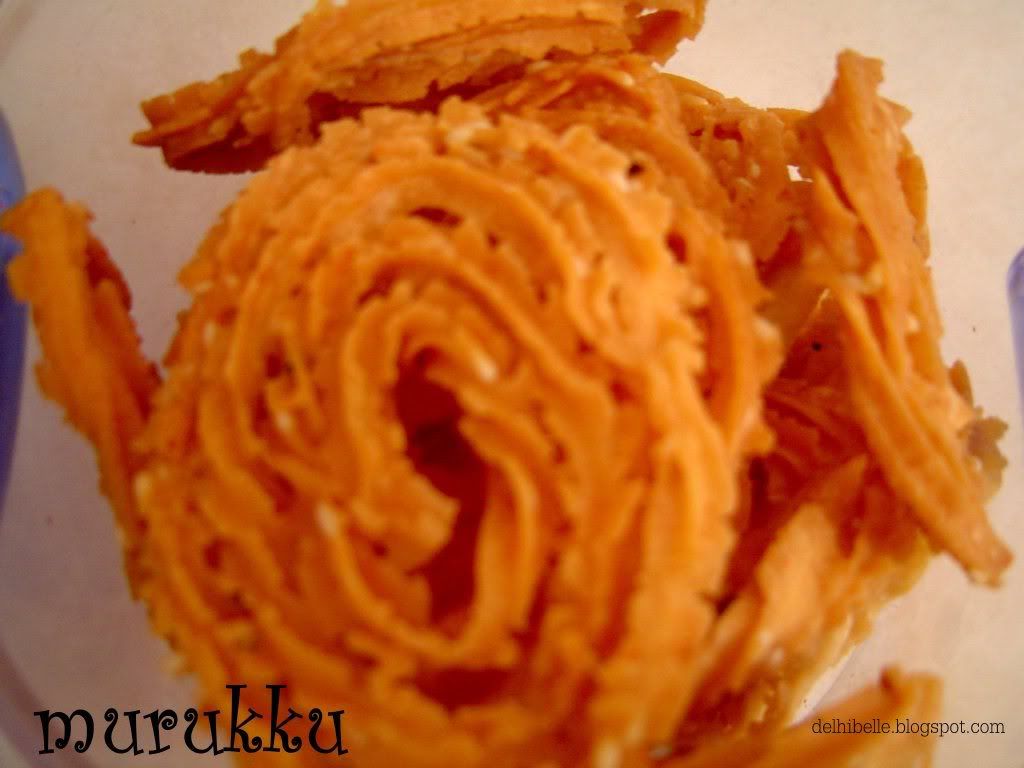 I picked up a pack of MTR Murukku flour, which just needs to be mixed with water. I also added 1 tbsp of melted butter and 1 tsp of sesame seeds to the mix, and made these using my new murukku maker, which I was wanting to use for a long time.
That's all for now folks !
Enjoy the Monsoon Mania to the fullest !