When this month's MBP was announced by my favourite blogger, Nupur, I almost whooped for joy!
Trust Nups to come up with the minimalistic theme of
'Less is More'
for MBP, dishes that take less than 5 ingredients to make.
As my first entry, I decied to make the gorgeous
Tendlya Talasani
from Meera's lovely blog, a fun recipe where you spank the poor Tendli and garlic into submission to one of the simplest but yummiest side dishes I have had in a long time.
Tendlya Talasani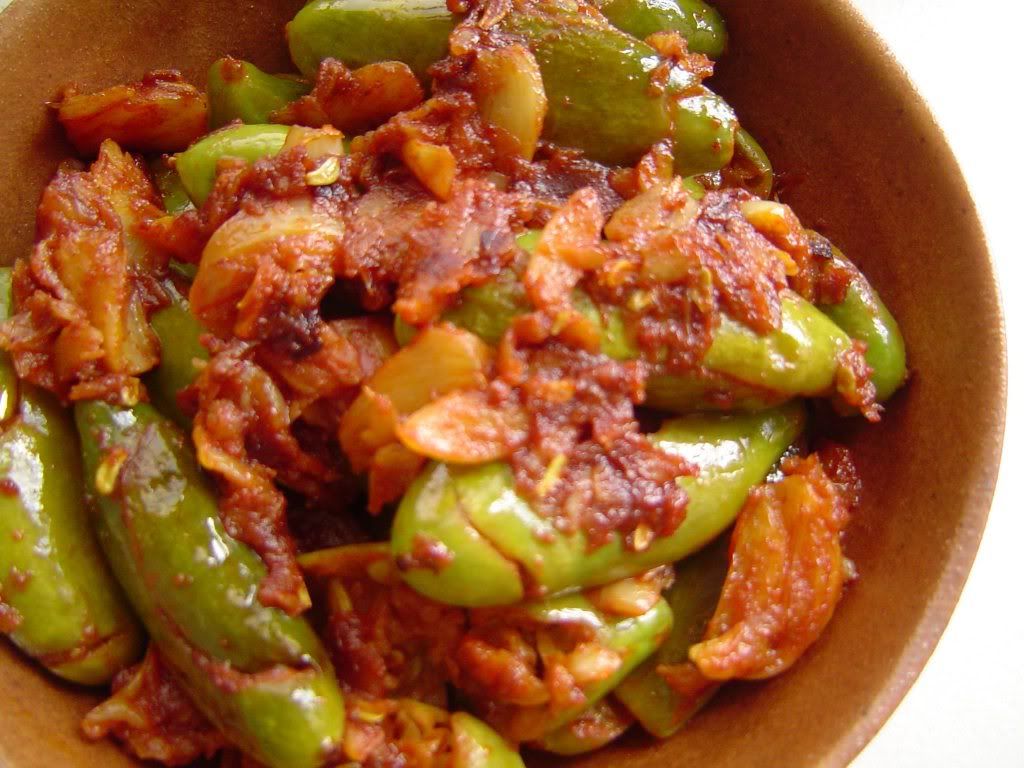 A word of caution for Clumsies like me; do not be over zealous in smashing up the Tendlis, or your kitchen and clothes will all be splattered like so:
Other than mess up everything around, including my laptop which I had planted in the kitchen so as to not miss any step, I followed Meera's recipe to the T, including adding salt only after the Tendlis had finish cooking.
For those who are planning to try it, I can just say that this recipe is mindblowing, almost literally, as it is not for the faint of heart!
But spice lovers like me will barely be able to let it finish cooking as the tantalizing aroma of chilli and garlic frying together is pure torture! It's no surprise therefore that my finished dish does not look half as good as Meera's, but this did not stop me from enjoying it to the last bit over two dal chawal meals.
My favourite bits were the chilli coated garlic pieces, a perfect complement to the crunchy Tendli. This was my first time making a Konkani dish, and I am completely hooked!
Meera, I totally LOVE the delicious, traditional fare that you cook. Thank you so much for helping me discover the wonderful cooking of your homeland.