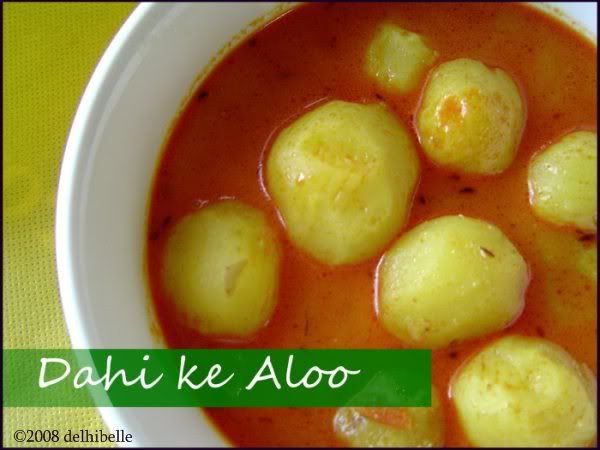 I have gone through more than my fair share of identity crisis, as all my life I have been mistaken for a Punjabi, even though my knowledge of Punjabi is laughable at best , and way below what most dilliwallahs can manage!
Not only in Mumbai, did I have to patiently educate junta that just because I am from Delhi does not automatically qualify me as a Punjabi, but the worst was when most Delhi folks also mistook me for one!
The story continues in Singapore too, as the minute I step into any Indian DVD store, all the latest 'punjabi' hits are offered to me!
Bhags, I am sure you understand what I go through, and taking a page from your book, I assert my 'bania-ness' with this authentic, homestyle recipe for 'dahi wale aloo'.
The Baniyas of UP rarely ever use onion and garlic in their food, relying on simple spices to create subtle but delicious gravy dishes. This recipe is usually made with boiled, mashed potatoes or arbi(colocasia), but this time I used baby potatoes, just because they look so cute !

Ingredients
Boiled & peeled whole baby potatoes, 10 to 12
1/2 cup dahi (plain yoghurt)
a small knob of ginger, peeled
one or two fresh green chillies,optional
1/2 tsp each cumin seeds, red chili powder, turmeric & coriander powder
a pinch of hing ( asafoetida)

How to:
Poke the potatoes gently in a couple of places with a fork, toothpick, or the back of a matchstick, as our cook used to!
Whizz the tomatoes, ginger & green chillis in a blender. Heat the oil in a pan and add hing & cumin. As soon as the cumin starts popping, (it should not burn or blacken, will turn bitter!), add the dry spice powders and the tomato, ginger-chili paste. Fry nicely, till it leaves some oil.
Now, take it off the flame and after a minute or so, add half the yoghurt, stirring constantly. Put the pan back on the flame and stir for a couple of minutes till the yoghurt gets completely cooked. This is an important step, if ignored, the curd can split and get curdled!
Add around 2 cups of water and salt and let it simmer till the water is reduced by half a cup. Now take some of the gravy and mix it with the remaining yoghurt and add it back to the saucepan, which should be on a really low flame. Check for seasoning, garnish with fresh coriander and serve with plain paranthe or poori.
For those who can read Hindi, here's another homestyle way of making dahi aloo without the tomatoes, resulting in the typical 'yellow' dahi aloo. Me? I love my tomatoes!