(Belated)Happy Birthday, DelhiBelle!

5 days back, this blog of mine quietly turned one, and true to my track record, I am late with my own blog's birthday post! However, one interesting observation is that this will be my 53rd post, which means that I have posted at the rate of exactly a recipe a week. Not as bad as I thought,what say?
To celebrate, let's take a walk down memory lane with a delicious reminder of long forgotten days, when simple was beautiful, mangoes were to be had only in summer and vacations meant the grandparent's farmhouse, not Spain!
Make and enjoy this sweet, decadent pleasure, on a leisurely weekend, the way it was made in the good old days. Put away the pressure cooker, skip the condensed milk, bring out your best, heavy bottomed pot and get down to making kheer, the traditional way. The resulting labour of love will not only be superior tasting, but will also be much more satisfying to make.

The inputs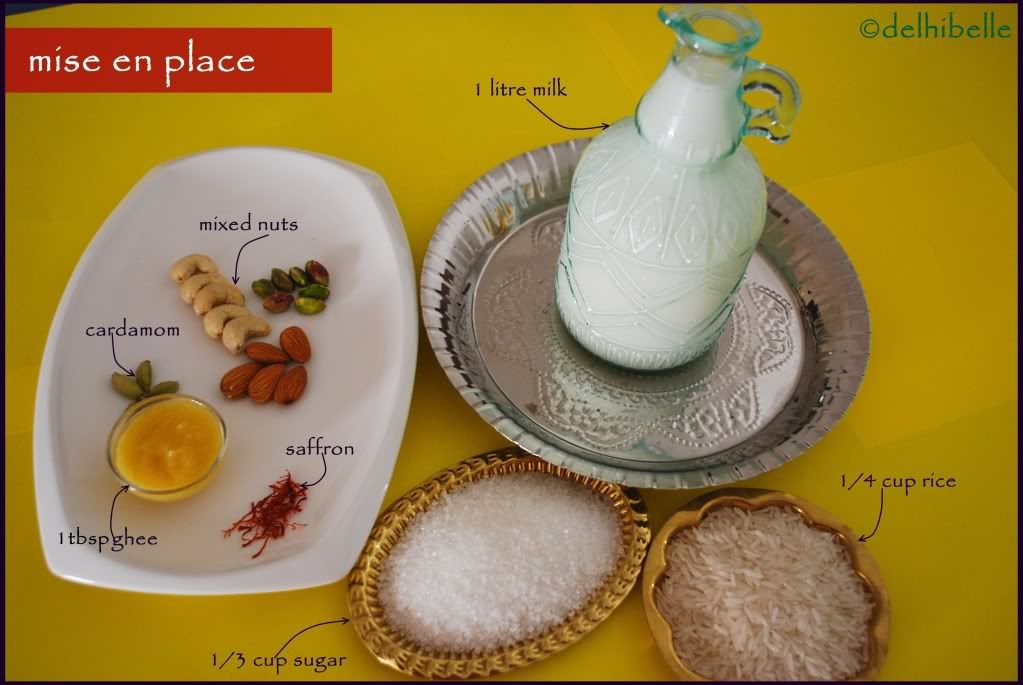 5 cups (1 litre) of whole milk
1/4th cup (4 tbsp) rice
1/3rd cup (around 5 to 6 tbsp) of sugar
1 tbsp ghee or clarified butter (use unsalted butter if you cannot find ghee)
Flavourings:
½ tsp saffron strands, soaked in one tbsp of milk
¼ tsp cardamom seeds, crushed
Garnishes:
Toasted, slivered pistachios, almonds & cashews
The process
Heat the ghee on medium heat and toast the rice until it smells nice and slightly nutty (takes only about a minute or two). Slowly add the milk and bring to a boil. Now, turn down the heat to a gentle simmer and stir occasionally to ensure milk does not stick or burn, till it is reduced to almost half its original volume( approximately 25 to 30 minutes). At this point, add the sugar, cardamom, soaked saffron & raisins if using, let it cook for a few more minutes till the sugar completely dissolves. Check for sweetness, bearing in mind that cooling will considerably blunt the sugariness. Bring down to room temperature, or cool in a refrigerator, sprinkle with the toasted nuts and serve.
If you're feeling fancy (I was!), decorate it with some silver varq. This makes it look really festive.
This is how it looks after a few hours in the refrigerator, which is how I like it best.
Fun & modern Twists
Flavouring: Rosewater, Kewra (Screwpine), Cinnamon, Vanilla
Garnish: Strawberries, mangoes, oranges, cranberries, raisins
Regional variations and cousins :Kheeri, Payesh, Phirni, Payasam, Bhat Payasa
Kheer Trivia
Did you know that in the Jagannath Temple in Puri, nearly 800 cooks make kheer using a 2000 year old recipe, as Prasad for almost 10,000 devotees each day!
Delhi's arguably best known kheer can be sampled for all of Rs.12 (S$0.40) at Bade Mian's kheer shop in Hauz Qazi, Old Delhi