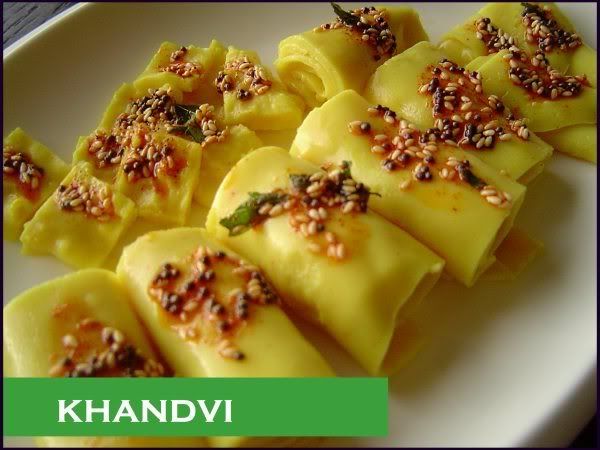 Khandvi, to me, is an exquisite and delicate snack, which I could anytime, if only someone would be willing to make for me. That is because, I associate khandvi with lot of hard work and time, stirring the mix at the stove, spreading it on thaalis and then painstakingly rolling each one. However, Sia's Microwave version eliminates the pain out of the first part atleast, and if kids are willing to help, then rolling them out is such fun.
However, my favourite way to eat these tangy snacks, as namkeen burfis, does not even require rolling them up. This is something that my mom does when she makes huge batches of khandvi, as by the time she finishes spreading it on 8 to 10 thalis, the last bit of the mix would have cooled down to an unspreadable mass, which she sets on one of the smaller thalis, and cuts into diamond, or square shaped burfis, depending on what the kids root for :)
Note:
The cooking time would really depend on your Microwave and the quantity you are making. I used a 4 year old Samsung combi MW and made a small batch, as I was cooking only for myself that day. I am only recapping Sia's recipe, see her post for the detailed version.
1/3 cup besan
1 cup buttermilk ( 1/3 dahi+ 2/3 water)
Add salt, turmeric, chili powder, hing
Mix well. MW on high for 11 minutes stirring every 3 minutes. Spread on greased thalis. cool, cut, roll, temper, eat.
Here's how much I got out of the above quantity, approxiamately two small thalis, with some leftover for burfis ( see the small white plate)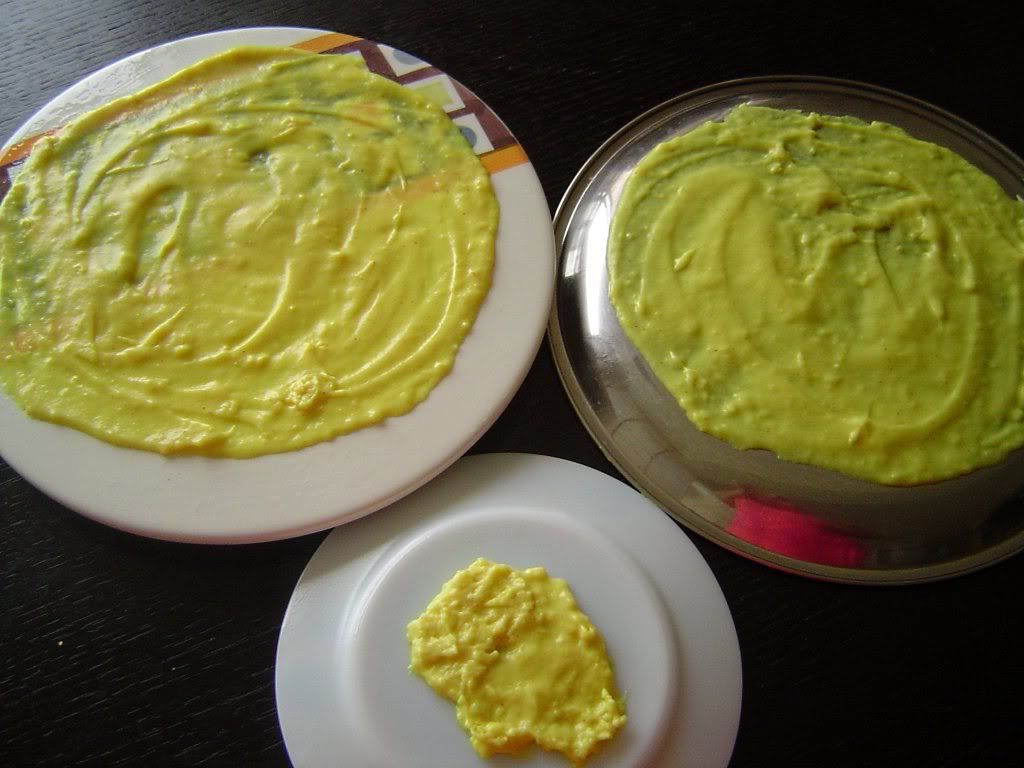 Tadka:
This is where I deviated a bit from the recipe, and used the tadka that my mom does for khandvi, which needs:
1 tsp oil, 1/4 tsp mustard, 1/2 tsp sesame seeds, 2 curry leaves and a pinch of red chilli powder.
Heat the oil in a tadka pan, add sesame and mustard seeds, and curry leaves (watch out for the splutter!). Take it off the heat, wait for 5 seconds and add the red chilli powder. Spoon on the khandvis.
MW Khandvi goes to T&T: Monsoon Spice hosted by Zlamushka. Thank you Sia, for a lovely and lazy khandvi recipe.