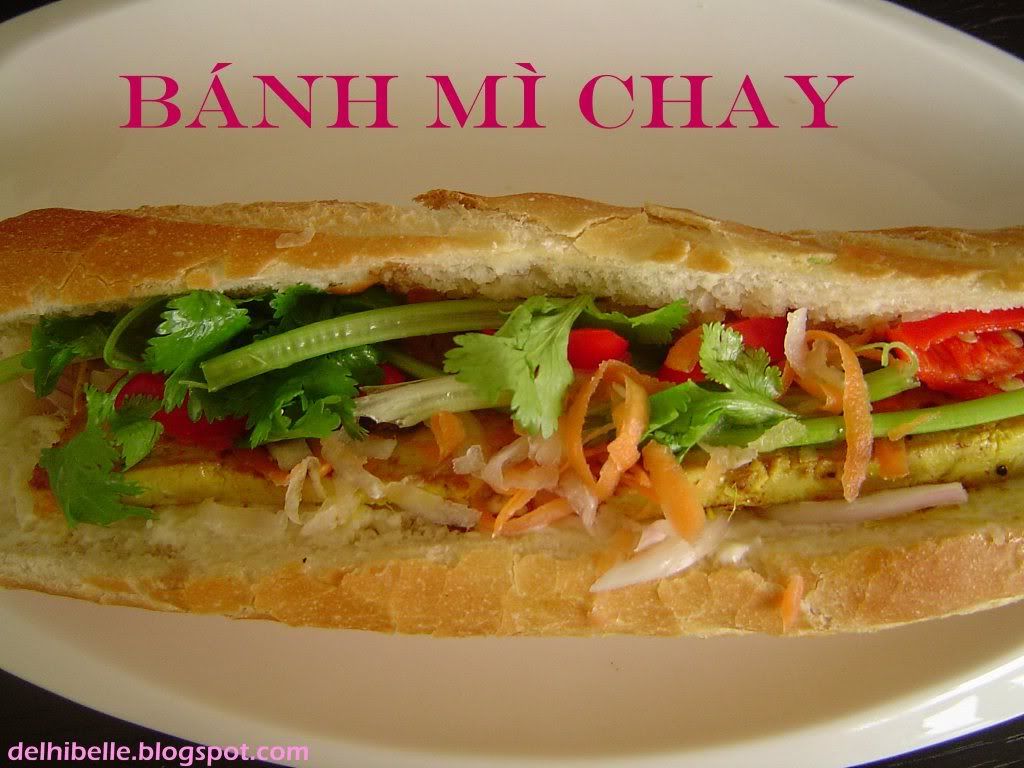 Bánh mì is an edible souvenir of Vietnam's french colonisation . Encompassing the best of Eurpean and Asian food, with crusty french bread and fresh Asian herbs, it is a lovely fusion in the true sense of the word.The 'chay' denotes that it is vegetarian.
While Bánh mì is a sandwich really, it is not your pat some butter & cheese, slap another slice and eat and run sort of thing. This one needs a bit of time and planning, to create all the layers of flavours and textures that a good banh mi is, making it a great Sunday brunch, which is what is was for us today.
While some of the fillings are easy to play around with based on what you like and what you have, the key ingredients are pickled carrot and daikon(radish), and fresh cilantro, with a boldly flavoured protein bit ( Pork or chicken are traditional, then there is a basic egg version , I subbed with Tofu, but paneer should work even better). Most recipes also call for cucumber but we had none at hand, so add that if you like.
The components of this sandwich are :
***************************************************************************************************************************
Part I :The Sweet & Sour
Everyday Carrot and Daikon Pickle ( Đồ Chua)
Carrot, Julienned or coarsely grated to make 1 cup

Daikon (Mooli), Julienned or coarsely grated to make 1 cup

Vinegar 1/4 cup

Sugar, 1 tbsp

Salt,1.5 tsp

Water 2 cups
Dissolve the salt & sugar in vinegar and water to make a brine. Add the carrot and daikon to this and leave for atleat an hour. Whatever you don't use can keep for a month. Next time I will try to julienne instead of grating them as that will keep them crunchier much longer. I also had some extra brine and threw in a couple of chillies in it.Adapted from
here
.
********************************************************************************************************************************
Part II: The Succulent & Flavourful
Lemongrass Tofu (Dau Hu Xa Ot)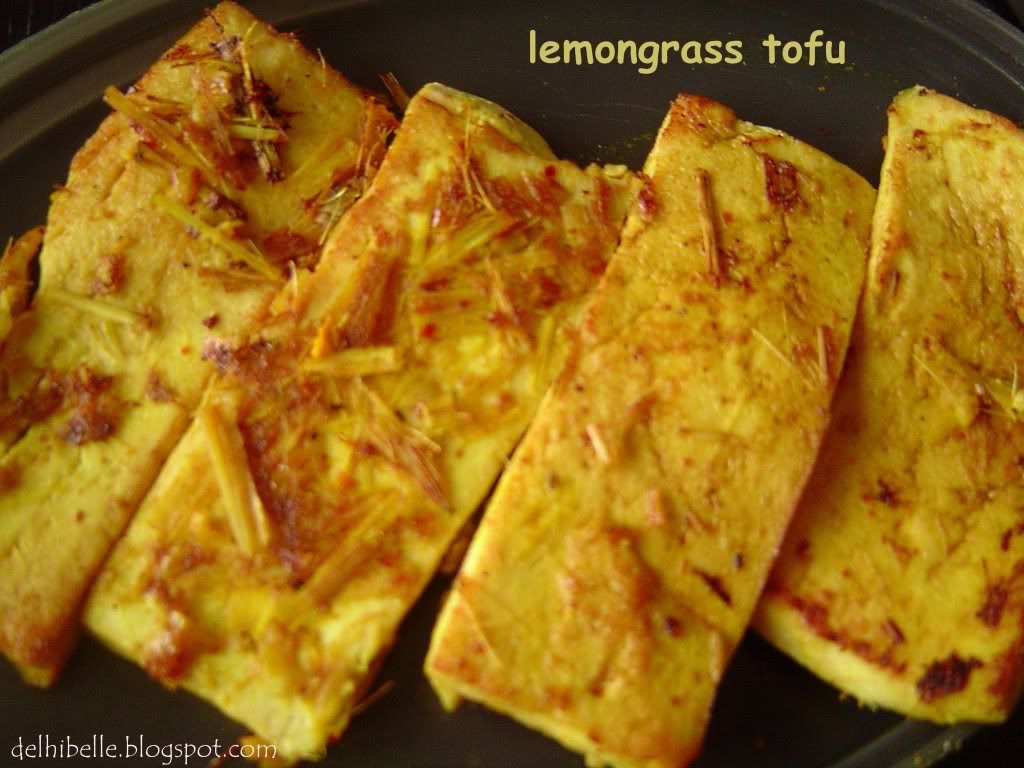 Firm Tofu ( or Paneer) 100 gms

Fresh Lemongrass 1 bulb, chopped to yield 1 tbsp

Garlic, 1 to 2 cloves, depending on the size

a pinch of turmeric

chilli powder (optional)

salt, a pinch

pepper ( black, white either should do)

cooking oil, 1 tsp

Light soy sauce 1 tbsp or regular soy sauce 1 tsp or salt 1/2 tsp
Pat dry and thinly slice the tofu or paneer. Finely chop lemongrass and garlic. Now if possible, crush them together with everything else, except the oil and soy sauce, else let it be and just mix the chopped lemongrass and garlic with turmeric, salt, chili and pepper.
Rub this marinade on the tofu, sprinkle the soy sauce and the oil and keep it aside to marinate for an hour ideally .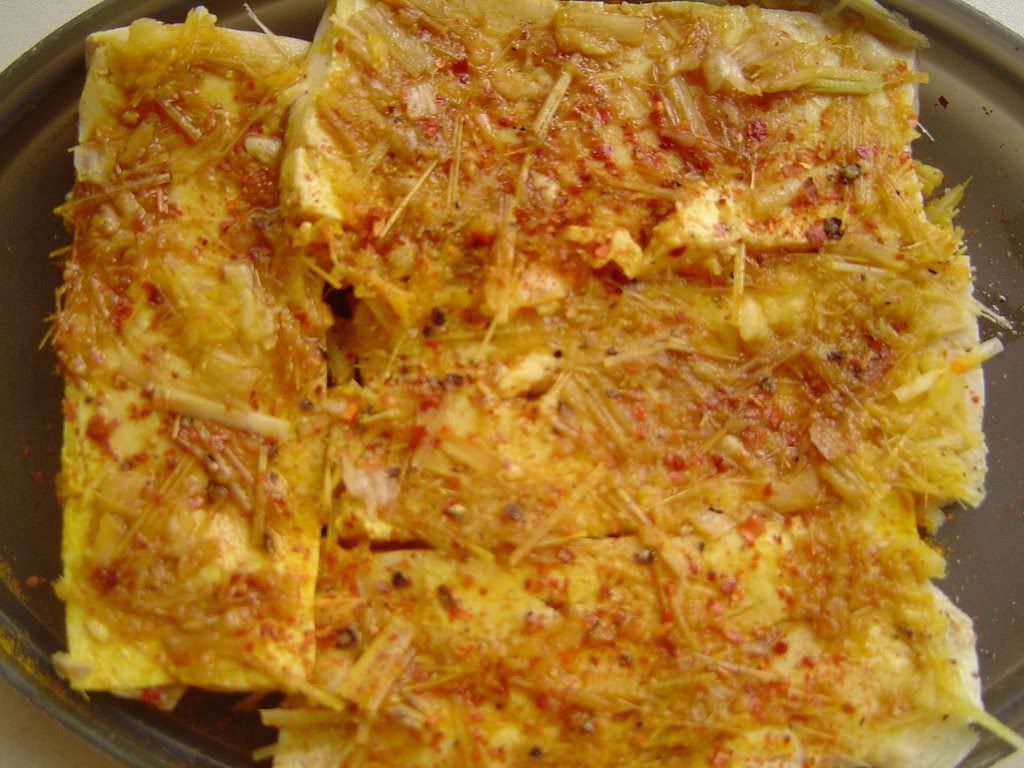 Now pan fry in a non stick pan using a little oil if required. If you are in a hurry, you could cook after 10 minutes of marination.
*************************************************************************************
French Baguette (In Vietnam they use a Baguette made with rice and wheat flour, which makes it really crusty and chewy). This is the size we used for two adults and 1 kid.

Fresh Cilantro (Coriander), just wash well, snap off the root and use together with the stalks (yes, the stalks do taste interesting)
Mayonnaise, Vegenaise, or this
Don't have it? Substitute it with a few drops of Ching's Mushroom Soy Sauce, or even leave it out. We only need a couple of drops anyway, and I did not want to add it to Shiv's sandwich as it does contain MSG. It is usually added to Banh Mi, but does not make much of a difference. Really.


Assembling the Bánh mì
Toast the bread just enough to warm it nicely.
Split it open at one end. Scoop out a bit inside if it is too dense for the fillings to hold well, I did not have to. Slice the onions, gently squeeze the water from the cilantro and pickled carrot & daikon.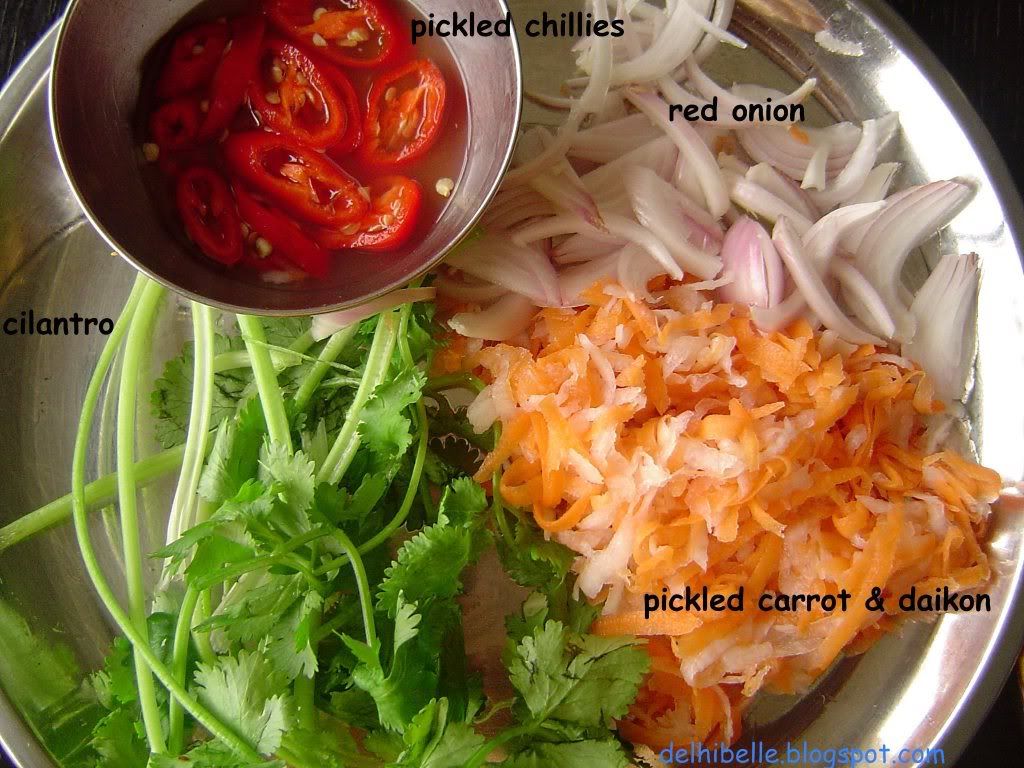 Now, Spread some mayo on the bread, add some onions, then a couple of tofu slices . Stuff in some pickled carrot & daikon and add a few stalks of cilantro. Do not be tempted to leave out the stems, they taste delicious in this sandwich. Sprinkle a few drops of the seasoning sauce and the pickled chili, if using.
Keep your hungry other half from devouring it while you click some pics
Open your mouth as wide as you can and dig in.
These go to JFI Soya hosted by Sia, WBB Combi Breakfast at Latha's and A.W.E.D Vietnamese by DK. Thank you D, you finally made me try these out.